13th May 2019
Posted by:

Joanne Woodhouse

Category:

Blog
Climate resilience is everywhere in the news. In the UK we have demonstrations, the Governor of the Bank of England and David Attenborough are talking about it, school children are striking about it and we've had a visit from Greta Thunberg, a Swedish climate activist who has been described as a role model for worldwide student activism.
Resilience can mean many things, but one definition is the ability to cope with what is inevitable. Reducing greenhouse gas emissions is vital, but coping with what we will have, however much we can reduce emissions, is a reality – we must adapt.
Weather and hydrology forecasting agencies have an increasingly important role to play. Climate projections show that we will face more extreme weather events and are likely to see events that are unprecedented in their severity, be these droughts, floods, heatwaves, cyclones or typhoons.
We can prepare for it
A commonly used phrase is that we can't prevent it, but we can prepare for it. Preparing for severe and extreme weather events can be greatly assisted by having useful, informative and understandable warnings of such events.
Because this is a global, worldwide issue, national agencies responsible for issuing severe weather and flood warnings in all countries need increased capacity, skills and tools to offer effective warnings to all those who need them. As a company, we are using experience from hydrometeorology projects over many years to support such agencies and enhance resilience to their climate threats.
One such project is being carried out in Moldova for the World Bank. We are supporting the State Hydrometeorological Service in improving its service delivery and to become better at providing alerts and warnings of severe weather and floods.
Click here or the image below to read a more in-depth case study on our Moldova project.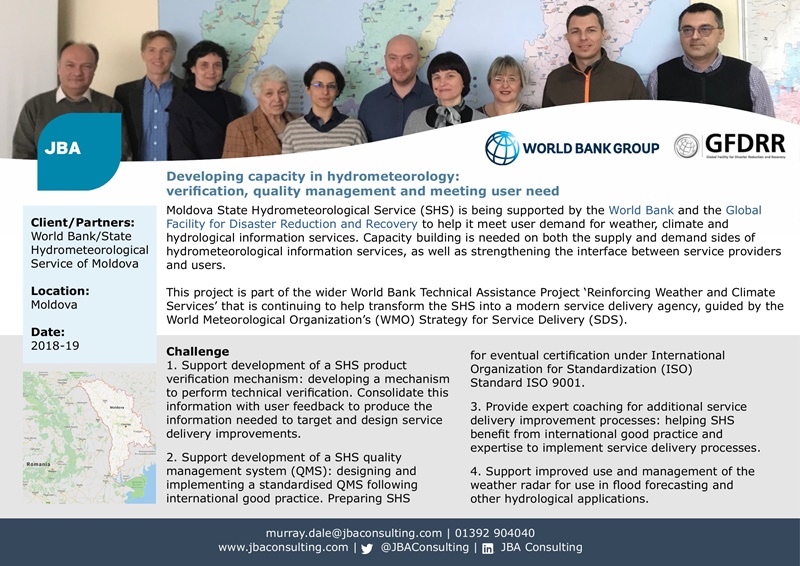 Want to know more?
Email Murray Dale, Hydrometeorology Technical Director, for more information on about our Moldova case study and climate resilience. You can also find out more on our climate resilience web page.