16th May 2019
Posted by:

Joanne Woodhouse

Category:

Blog
A changing global climate is expected to result in more frequent severe weather events that are likely to impact increasingly urbanised communities and infrastructure. The responsibility for decision makers to make timely decisions to protect communities and reduce losses from severe events such as floods has never been higher. Access to dynamic information on unfolding events ahead of time is critical for decision-makers in order to reduce overall impacts and make communities more resilient to flooding and adapt to a changing climate.
In recent years, South Asia has experienced a number of catastrophic flood events. Floodlist reported that during the summer of 2017, two million people in India were affected as the state of Assam was hit with a third of the flooding. Rivers in Bangladesh also saw record highs with around 1.3 million people suffering its effects.
In 2018, floods were reported by BBC News as being the worst in 100 years, with more than 200,000 people were left living in camps after their homes had been flooded or washed away.
'At least 324 people have been killed in flooding in the southern Indian state of Kerala in what local officials say is the worst flooding in 100 years' – BBC News.
With the monsoon season from July to September each year, flood waters, often driven by river flooding, can reach exceptional highs, rapidly resulting in disruption to daily life, costly damage to infrastructure and fatalities.
Better information to encourage better decisions
We have worked with a host of clients across India for the last eight years. In 2018, we undertook a case study demonstration of the Flood Foresight system to assess the utility of providing forecast-based flood maps ahead of major flood events in the region.
Our Brahmaputra basin case study was a demonstration of our global flood inundation and impact forecasting capability. Using our unique flood forecasting system, Flood Foresight, this demonstration coupled the EC Copernicus Global Flood Awareness System (GloFAS) with a library of JBA Global Flood Maps data. The resulting forecast flood inundation maps (provided daily and up to 10-days in advance) can be used to estimate the impact of a current, evolving flood event in terms of area inundated, populations affected, and communities and infrastructure at risk.
The emergence of forecast flood maps enables governments, NGOs, insurance companies and donors to take pre-emptive response decisions – these tools enable forecast-based financing, parametric insurance, claims triage, siting of defences, and public alerting. Ultimately, JBA's decision support tools are designed to present the best available metrological and hydrological information to those that need it most. This gives decision makers a better understating of river flooding ahead of time, assisting them to hopefully reduce the overall impact of flood events.
Click here or the image below to read the full Brahmaputra basin case study.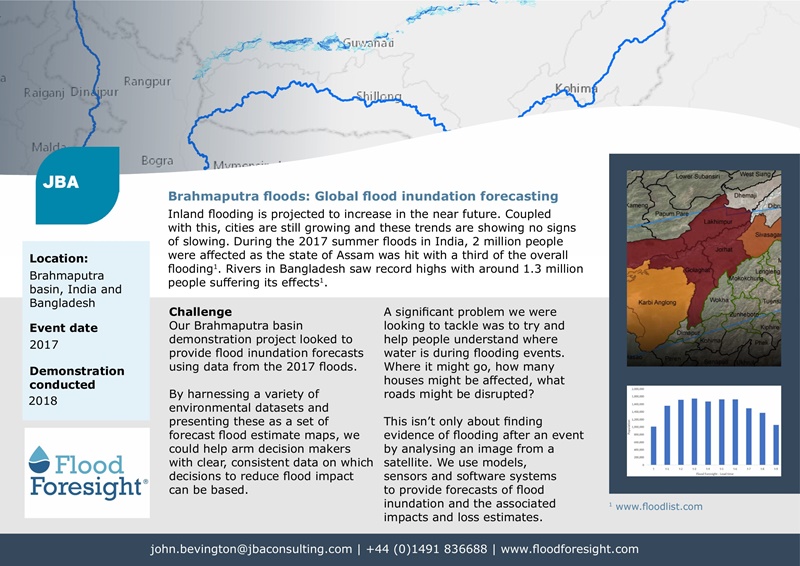 JBA is active in many parts of the world working on projects focused on climate resilience and adaptation, flood forecasting, flood risk modelling and management, and assessment of nature-based solutions to name a few areas.
Want to know more?
Email John Bevington or visit www.floodforesight.com for more information.